January 20, 2021 was historic for several reasons. The biggest was was that only two weeks ago democracy itself was under attack. Throngs of right-wingers, egged on by the now-ex-resident of the White House, Tinyhands Orangehead, stormed the US Capitol and five people died. So having the traditional peaceful transfer of administrations was a big deal this time. Now that our long national nightmare is over (well, at least one of them), we can hopefully get back to politics as boring. But also, the highest ranking woman ever ascended to become Vice President. Kamala Harris happens to be Black and of South Asian descent, and representation matters. Whether or not one agrees with their policies, relevant to this blog's main theme is that we can hope that 46th President Joe Biden will be good for American bicyclists… not to mention, the planet.
For a well-done article on this subject, see the Bicycling magazine article "What Does Pete Buttigieg's Nomination as Transportation Secretary Mean for Cyclists? It's subtitled "A few more bike lanes here and there can go a long way. Will Buttigieg deliver?". The gist of it is that Mayor Pete did support some improvements back in South Bend, Indiana, and as a presidential primary candidate, had plans to expand on that. Assuming he sails through confirmation in the Senate, now controlled by Democrats, we might see some more federal dollars flowing to local projects.
Biden signaled his intent to make the environment a primary issue by re-signing the U.S. to the Paris Accords for climate on his first day in office. He also had nominated Polly Trottenberg, the head of the New York Department of Transportation, to be Deputy Transportation Secretary working, um, underneath Pete. She's hailed as an ally to cyclists and public transit riders. She led New York City's Open Streets program, a long-beleagured bus depot, other transit projects, and also made way for restaurants to be able to stay open with outdoor seating. She also already worked for the DoT under President Obama and then-VP Biden.
So there's some good news there, but there is plenty of pro-car stuff in both Biden's and Buttigieg's policy plans. It will remain to be seen what actually happens, but I'm hopeful.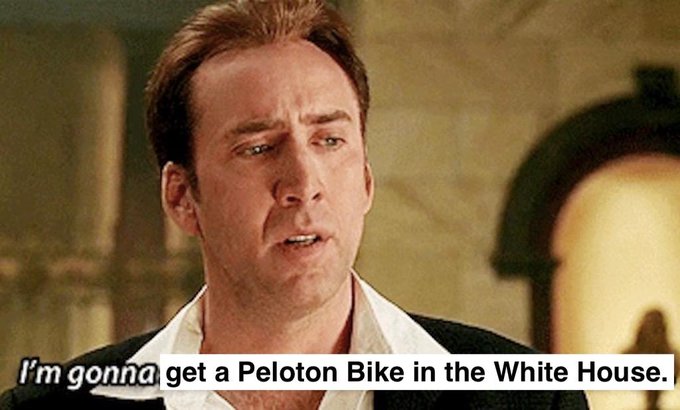 What's more interesting to me is that good ol' Scranton Joe rides not just a mountain bike, but, wait for it… a Peloton! You know, those fancy $2,500 home exercise bikes that got trashed in the media a while back. They ran an ad with a skinny woman looking terrified that she had to get even skinnier for her husband since he bought her the bike as a Christmas present. By the way, you also have to keep paying like $40 a month subscription to get access to the classes. Too rich for this dude's blood.
But the high price tag compared to his image as a scrappy guy with working class roots and the security risks are being debated by internet people. You see, Pelotons are part of the IoT, the Internet of Things. The audio and video vulnerabilities could be an issue for the leader of the free world. Also, apparently there are long delays in people getting their expensive home trainers, so some are mad about that. This fun article dissects those arguments. But whatever, who cares? That misses the point.
What is the point, you may be wondering? Well, I'll tell you. Here's a guy, age 78, the oldest person (so far all men) to become POTUS. Not only does he go on bike rides out in the real world, he and his wife, Dr. Jill Biden, discuss who gets to go first on the exercise bike every day. Compared to the #45, who is obese and not an athlete (golf doesn't count unless you walk and carry your own clubs), that's night and day. Whether or not Joe puts a bike lane on every street (instead of a chicken in every pot) isn't the question. The fact that he's still "one of us" counts for something. The proof is in the pudding, though I think he has some bigger fish to fry. Like fixing every one of his predecessor's poor policy picks. And also, VP Harris is known to do indoor stationery bike aka spin classes. Let's hope she does that more and political spins less.
For fun, Harris said she loves to cook and starts many mornings at SoulCycle. "I love SoulCycle," she said of the fitness chain. "It's like going to the club."

Source: SF Chronicle
OK, I must be hungry since I just mentioned three clichés, and they all included food: chicken, pudding, and fish. So while I don't expect to be "ridin' with Biden" in person, or for the Prez to follow me on Strava (though you're welcome to), or getting my own Peloton and riding with him virtually either, I do take comfort knowing that we have a Bicyclist-in-Chief.
If he needs A Dude Abikes to be undersecretary of something, I hope he'll have his people get in touch with my people. Which is me. Also, I'm hoping that secretary that I'd be under is less of a fathlete and more of an athlete. Just sayin'. Bike on, Joe! With #45 out of office, he's already made huge strides in giving us some reduced carbon emissions, at least in the vicinity of 1600 Pennsylvania. Which since he's from that state must feel good. Welcome home, Joe. Now get back to work cleaning up #45's mess!
P.S. This is mostly a blog about bicycling for the most part. Nobody's perfect, and I have my reservations and doubts about the new boss, too. But bikes (and I) don't really care who you voted for. Ride on!
---
Thank you for visiting me on WordPress or at https://ADudeAbikes.com. Feel free to add your Likes and Comments and to Follow the blog through WordPress if you have it, or by email. Contact me on the About page with any questions. Please feel free to Re-blog and Share as long as you give credit and the permalink to this post.
---
© 2021 A Dude Abikes. All rights reserved.