I read the news today, oh boy. Actually, I learned about Bicycle Sport Shop and its, um, transition, a while ago, but I just hadn't got around to sharing it here. As it turned out, I stopped by the Lamar flagship store and they were having their going out of business clearance sale. While there, I picked up two items and had a chance to chat with a few mechanics, including one from the Guadalupe service-only location. (It shut down temporarily after my post Which Austin, Texas Bike Shops Are Open During the COVID-19 Shelter in Place?.) Here's a short post about the news.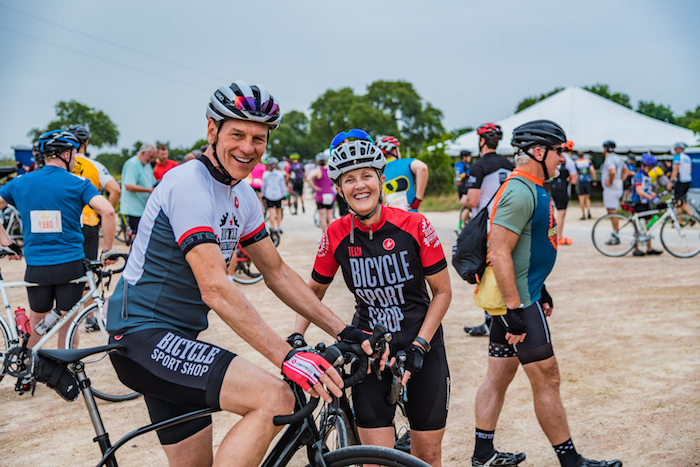 BSS has been in Austin for 35 years. With fourstores and a devoted following from families getting bikes for their kids to racing teams getting professional bike fits, they have been an Austin institution. Founded by Hill Abell and Laura Agnew, it has serviced countless numbers of bikes and riders. Hosting events like their annual bike ride to all the shops, regular shop rides, hosting classes, clinics and sponsoring a racing team extended their reach deeply into the cycling community. They even sponsored an annual ride in Blanco, Texas in conjunction with a brewery called the Real Ale Ride. If you called it an Austin institution more than a business, you'd be right. So it's sad to see it go, although it will live on in another incarnation.
My connection began when I met Hill in his role as President of the Board of Bike Austin. It also turned out that I won Sophie the Fairdale Weekender Archer through a BA raffle. When I noticed that there was no serial number on the bottom bracket, he kindly allowed me to switch her out. He also donated generously to my League of American Cyclists-sponsored class for the League Cycling Instructor certification. He even gave me a discount on a bike fit I once got. A nice guy for sure. But as his and Laura's letter says, it was time to move on:
"But all good things must come to an end, including the very best rides, and the time has come for us to explore different paths in our life adventure… We have decided to sell Bicycle Sport Shop to Trek Bicycle, as we consider them a partner who shares our values and passion and would be the best future caretakers of our cycling community."

read the full letter from Hill and Laura
One of the downsides to this change is that you won't be able to buy any other brand of bicycles there. But if you own a non-Trek Bike, you can still get it serviced. (They also will sell the Electra brand they own and which includes cruisers, townies and e-bikes.) However, a couple of the mechanics I spoke with weren't sure how it was going to all work out. For me and Sophie, the Fairdale Weekender Archer, it may be easier to go to a shop like Clown Dog or The Peddler that are still selling the brand. Another good thing is that all the staff that want to stay will still have a job. Apparently the 98% of them who are staying will be getting a good deal.
Trek of Austin as it will be known, becomes part of a major manufacturer and retailer of bicycles worldwide. Trek has huge brand name recognition, sponsors a pro racing team (Trek-Sigafredo) that participates in all the European and other classics, the Tour de France, Giro d'Italia and Vuelta a Espana, and seems to be a decent corporate citizen. Especially with the boom in bike sales since the onset of the coronavirus pandemic, things are good in the bike world. They weren't great this time last year for BSS, which is one reason (along with high Austin rents) that Hill and Laura decided to sell. With 118 stores in the US and a presence in many countries, Trek isn't going out of business anytime soon.
Time will tell how this all works out. Other shops may benefit for people wanting other brands. So they may lose some customers. Other changes are certainly likely. As more people in Austin get vaccinated and COVID-19 restrictions someday are relaxed, I'm sure their shop rides will return. (Currently, non-staff can't even go into the shops.) As Hill and Laura ride off into the sunset (probably over a, um, hill), biking in Austin will continue to be popular, risky, controversial, healthy, fun, expensive and many other adjectives depending on your perspective. Bicycle Sport Shop may be changing their name and ownership to Trek Bikes, but there will still be bikes to buy and service and most importantly, to ride.
The four currently open BSS locations will close after the last day of the sale, January 17, for a remodel and open again as Trek Bikes on January 25. I was told that the Guadalupe store will re-open, but still just for service. I'm grateful to Hill, Laura and all the staff at BSS who have helped me on my journey, and I wish them well on their next phase. A year off is in the works, but I bet they'll still be around and be involved in different ways.
For an article in the local Austin paper, click on this link (there's a pay wall unless you know how to get around that). Here's another at Bicycle Retailer. Follow me on the fitness app, Strava.
---
Thank you for visiting me on WordPress or at https://ADudeAbikes.com. Feel free to add your Likes and Comments and to Follow the blog through WordPress if you have it, or by email. Contact me on the About page with any questions. Please feel free to Re-blog and Share as long as you give credit and the permalink to this post.
---
© 2021 A Dude Abikes. All rights reserved.