Here are some things going on in the bicycling world of Austin, Texas that might interest you.
Lawson Gets Ducky at the Giro d'Italia
PRO-TOUR RACE SPOILER ALERT, SORTA: Lawson Craddock is a pro racer I've met who lives part-time in Austin. He's the guy who broke his scapula in the 2018 Tour de France and still finished the whole thing. He is riding in the 2020 Giro d'Italia, usually the first of the three Grand Tours. On the opening Stage 1 time trial, he came in 8th place. Pretty good. Here's a breakdown from Velo News of his power meter, speed (almost 60 mph downhill!! Here's his ride data on Strava. The fun thing is that his helmet looked like a duck. As for why, I haven't a clue. Maybe a sponsor's logo. Pretty qwacky!
Austin Healthy Streets Program Under Attack
Bike Austin is encouraging people to contact the City of Austin to preserve the Health Streets Program. What is that, you may ask? Well, I'll tell you.
In response to the COVID 19 pandemic, Austin City Council directed Austin Transportation (Resolution 20200507-062), to create places that promote physical and mental health and provide safe options to access jobs and services. Called "Healthy Streets," people can more comfortably use these low-traffic areas for activities like walking, wheelchair rolling, running, and bicycling with enough space to maintain physical distance. Healthy Streets are achieved by creating "soft closures" on select local streets to through traffic and maintaining local access only for residents, deliveries, and emergency vehicles.

from http://www.austintexas.gov/HealthyStreets
I've ridden on a few of these, and while some people moan about how they aren't perfect, as my brother always says, "perfect is the enemy if good." And IMHO, they're generally a good thing. So until car drivers stop killing cyclists and pedestrians, I hope the City will keep some or all of them and make them permanent. To give feedback (Austin residents only, please!), go to this link.
Vote FOR the 2020 Mobility Bond, (Prop B) and Pro-Bike City Council
A few years ago, A Dude was honored to be part of a crew of Bike Austin volunteers who did tabling, door knocking, and other outreach like at the bike parking at the Austin City Limits Festival. We helped get the 2016 bond passed, and are seeing the fruits of our labor. There are new or improved sidewalks, intersections, and bike lanes around town. This infrastructure improves efficiency, but more importantly, saves lives.
This year, there's another opportunity to protect vulnerable road users (bicyclists and pedestrians). It's called the Mobility Bond, or Proposition B. Prop A, a far more expensive tax hike for trains, tunnels and buses, is overshadowing this one, but Prop B is a good idea to keep building on the previous one. Bonds are sold to finance Prop B, so the overall cost is not nearly as high as Prop A. If it passes, it will provide $460 million to bike lanes and trails, sidewalks, Vision Zero, bridges, transit and street improvements, and Safe Routes to Schools. A win-win-win for all!
So I'm all for it and if you're an Austin voter, I hope you will be too and VOTE YES ON PROP B! TO learn more about the Mobility Bond Prop B, go to this link. Also, Bike Austin sent questionnaires to candidates. Their board has made their endorsements for City Council.
Livestrong Challenge, October 12-18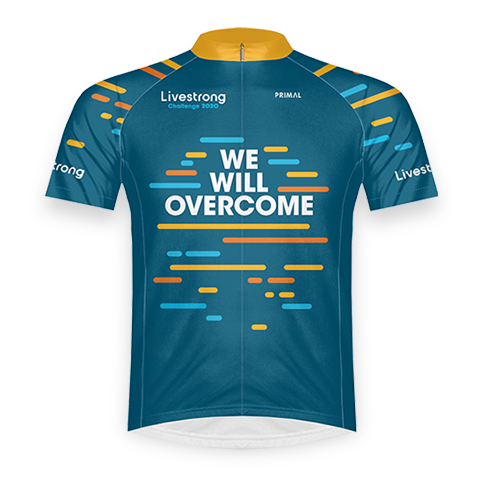 Normally a bike ride of varying distances, but due to THE VIRUS, it's a do it yourself affair. I've done other charity rides, and like the Mamma Jamma Ride found out about this a bit late. Still, you might be able to get in on it no matter where you live, or if you're in a position, to make a donation. If you raise enough money, you can get perks like the cool jersey above.
We are excited to announce that The Livestrong Challenge is going virtual for the first time ever! Registration is free, making it easier than ever to make a difference today. Whether you ride a bike, run, walk, swim, lift weights, do yoga, or love another physical activity, you're invited to register and participate in this global event.

from Livestrong.org
As a non-profit that serves people with all kinds of cancer, they depend on donations from this one big annual event. If you want to get involved, or make a donation, go to this link.
Well, that's all for this edition. Pass it on!
---
Thank you for visiting me on WordPress or at https://ADudeAbikes.com. Feel free to add your Likes and Comments and to Follow the blog through WordPress if you have it, or by email. Contact me on the About page with any questions. Please feel free to Re-blog and Share as long as you give credit and the permalink to this post.
---
© 2020 A Dude Abikes. All rights reserved.