I just saw this September 13, 2019 article in Bicycling magazine by Kailey Kornhauser. Since I routinely refer to myself as a fathlete, I couldn't pass on sharing and commenting. Subtitled "My weight doesn't need to change. But the bike world's attitude toward me does," I think she nails the point home that overweight people can and do ride bikes and deserve respect. She puts the fat-shamers in the bicycling world on notice that their discriminatory views are harmful, outdated, unacceptable, and actually damaging to the sport. A Dude has dealt with plenty of unspoken and spoken anti-fat discrimination, so it's high time this issue gets the attention it's due. Let's talk about it.
Yes, You Can Be Fat AND Fit
if you're new here, check out my statistics from Strava, as summarized in this post, I Just Passed 20,000 Miles (17,000 Strava Verified) Bicycling in 4.5 Years!. Actually, that pretty much says it all. For a middle-aged guy with multiple health challenges, I would be willing to be that many people half my age could not match that, nor will they even try. The point is that everyone deserves the chance to experience the joy, freedom, challenges and rewards of bicycling.
From AverageJoeCyclist.com, "A Guide for Fat Cyclists" has this great quote: "What we're learning is that a body that exercises regularly is generally a healthy body, whether that body is fat or thin," says Glenn Gaesser, PhD, a professor of exercise and wellness at Arizona State. "The message should really be that if you are exercising regularly, you shouldn't necessarily be looking at the scale to determine how healthy or fit you are." (Source: Can you be fat but fit?)
The true problem is with our culture around sport, and our ideas of athleticism. Really, with who gets to move their body because they want to and who has to move their body because they need to fix it.

Cyclists with larger bodies are largely erased from the public image. We don't see ourselves in promotional materials for bike events, or in advertisements for bicycle manufacturers or clothing companies, or on Instagram feeds.

-Kailey Kornhauser
Now, as Kailey says, I agree that losing weight is important. But do you really think that fat people haven't tried and failed multiple times to drop the pounds? I sure have, without success. I went vegan, and got anemia. I cut out flour for over 20 months, with 0 results. There's always room for improvement in what one eats, hours one sleeps, and so on. The environmental, genetic and other factors are real. Thin people either don't know, don't care, are willfully ignorant, or just plain bullies. That is wrong and that needs to stop. Fat-shaming doesn't work and is actually harmful.
From the article:
Fix the Problem, Not People
So what do we as people who love cycling (or cyclists) do about this? Well, we can speak up when we hear people making derogatory statements about overweight people. We can demonstrate through example that just because we have extra weight on our frames that we can and do still have every right to be on the road. We can go at whatever speed we want, and wear whatever Lyrca, form-fitting, colorful, comfortable bike gear we like, and show up at any group or shop ride that's within our capabilities.
We deserve respect, to be treated fairly, and not be bullied. And in fact we might even be owed a little deference, admiration and appreciation for having the guts to put ourselves out there knowing we have to face scorn, ridicule and derision from people with little minds and no manners. You may be a thinner, faster, stronger, better cyclist, but if you engage in fat-shaming cyclists, you're a lame or possibly even horrible person. You probably don't even yell out "On your left!" when passing, either. If this is you, please bite your tongue, learn something and be better. Or maybe not and you can just suck it when I drop your ass. Yes, it will probably be on the downhill, not the uphill. Whatevs. You do you.
Body Positivity for Cyclists
The article is tagged with those words, and I think that's a good way to look at it. Because at the end of the day, it's not other people who have to live in our bodies. We do. So we need to get comfortable with a few extra pounds while also always striving to be healthier. If that means some pounds come off and we turn into awesome racers like Elden "Fatty" Nelsen aka FatCyclist.com did, great. If not, that's also great.
Kailey is my new shero for bringing this issue up. I hope she'll see this and get in touch with A Dude and we can explore this issue more. Meanwhile, don't let your body, whether it's fat, skinny, strong, weak, young, old, or whatever stop you from getting on a bicycle and riding it to your heart's content. Taylor Swift sings, "The haters are gonna hate. Shake it off."
A final thought from the article:
The cycling community has an opportunity to change. Bicycling is an accessible way for many people of all sizes to move their bodies if the space is created. What if we began to see images of fat cyclists riding alongside thin friends, or groups of fat people riding together enjoying their bodies just as they are now? What would it look like to include fat cyclists in films about biking or for companies to bring in fat cyclists to create gear that works for their bodies?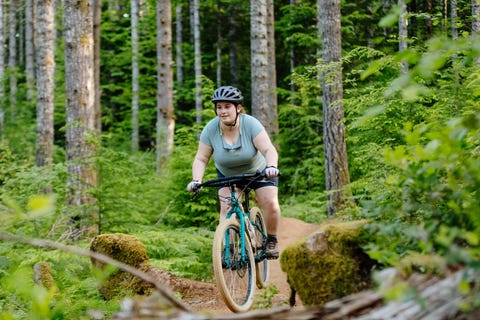 Thank you for visiting me on WordPress or at https://ADudeAbikes.com.  Feel free to add your Likes and Comments and to Follow the blog through WordPress if you have it, or by email.  Contact me on the About page with any questions.  Please feel free to Re-blog and Share as long as you give credit and the permalink to this post.
---
© 2019 A Dude Abikes. All rights reserved.