Professional cycling's biggest event was rescheduled from July to begin August 29, thanks to you know what. A few other pro racers have happened, and so there is hope Le Tour will start, and end, without problems. Of course there are always problems; it's the nature of sport. Last year's edition saw a huge storm blow up the last few stages with a landslide and flooding caused by snow and rain. This year is no different, except it's completely different, again, thanks to coronavirus. Here are 10 changes and what to expect in 2020 with some of my commentary.
No Froomey, No Gee. An embarrassment of riches has Team Ineos with too many leaders, including last year's 22-year old Colombian winner, Egan Bernal and last year's Giro d'Italia winner Richard Carapaz. So Chris Froome and Geraint Thomas will not be on the squad in France. After winning his fourth Tour in 2017, Froomey placed second to teammate and Gee in 2018. Just before the 2019 race, he crashed heavily into a wall, so was out. (Gee was second.) Froome has recovered but is still not 100% of his racing form, so he will try for his third win at the Vuelta a Espana. It's also his last year with Ineos, so his coveted fifth Tour seems like a fading dream. Thomas will go for gold in the Giro, which he's ridden thrice before. In 2017, he crashed out. The British seek to continue its dominance and extend its empire in all three cycling grand tours, but who knows what will happen?
Podium Man and Woman. In light of a petition to end the sexist practice of two female models kissing the daily winners, the Tour organization ASO will have one man, one woman, one local official and a rep from the yellow jersey sponsor. This has much to do with the trend in other races and sports as well as a petition, but also that wascally wirus. Whether the traditional French cheek peck remains remains to be seen.
Fans in Masks. Though not required in France at the moment, the race is requiring them. How they will enforce it remains to be seen. In general, there will probably be fewer fans anyway. Being outdoors is less conducive. But we don't want fans jumping in the riders' faces, especially now in a global pandemic, either. So we'll see how this one goes.
Testing, Bubbles, and More. Riders will have to be tested two days before and on the rest days. They'll be kept away from fans and most others except the media in their own "bubbles", except while riding, of course. If any test positive for COVID-19, they will leave the race. That doesn't mean the whole Tour will be stopped, but it could wipe out a team. Hopefully not.
Speaking of the Media. NBC's announcers Phil Liggett and Bob Roll will be stuck in Paris the whole time commentating by watching the video feed. They've always done the latter, but traveled with the Tour. This year, maybe just a few of the color commentators like Steve Schlanger and former racer and German crazy man Jens Voight will be allowed to follow along. Steve Porino, who is a cycling and ski commentator, does the Inside the Peloton segments from the back of a moto. I think he's funny.
Something's Rotten in Denmark. The Tour was to start in Copenhagen, but that's been postponed to 2022. Instead it will leave from Brittany.
No Team Time Trial, and Individual TT on 20th Day. Some years there is one, but not this time. And the individual is on the penultimate day, making nervous moments for General Classification riders at the end of three weeks. Those who are good in the mountains but struggle in the TT may see their positions drop radically.
The Route. Many of the famous Alps and Pyrenees are not in the course. While the route still goes through those mountain ranges, the bulk of the race is in the south, including the Vosge, Massif Central, and the Jura.
Race Favorites. Aside from Bernal, Primoz Roglic is mentioned as are other strong riders from years past like Steven Kruiswiik (third last year) and Thibaut Pino. Other pretenders could be mentioned, but it's anybody's race. As usual, it's a team sport with individual efforts, so green, white and polka dot jerseys, daily stage wins, and combativity prizes are all races within the race.
The Virus. No one knows what will happen, but it is possible whole teams could be sent home and the whole race could end early. Hopefully not, but these days, predictions aren't worth much.
Sources: cyclingnews.com, velonews.com, bicycling.com and more
Well, that's my list of 10 changes to 2020's race. Stay tuned and let's hope for the best!
Will you be watching the Tour de France? What are your thoughts on the 2020 edition?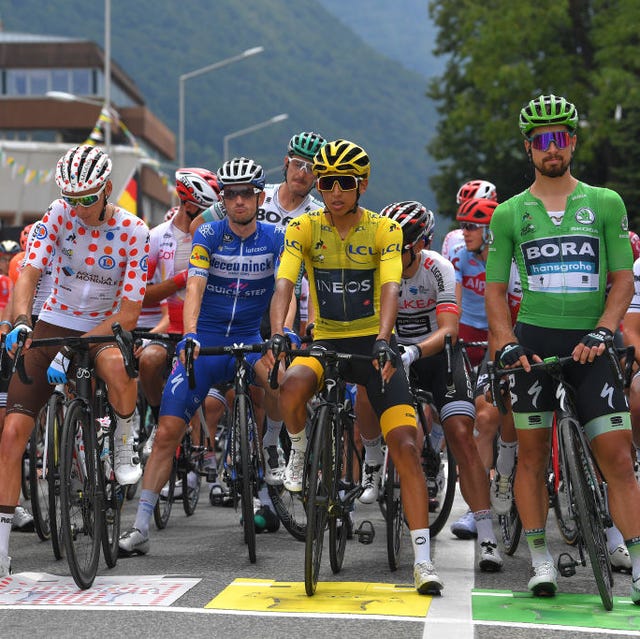 ---
Thank you for visiting me on WordPress or at https://ADudeAbikes.com.  Feel free to add your Likes and Comments and to Follow the blog through WordPress if you have it, or by email.  Contact me on the About page with any questions.  Please feel free to Re-blog and Share as long as you give credit and the permalink to this post.
---
© 2020 A Dude Abikes. All rights reserved.