May is Asian American Native Hawaiian Pacific Islander (AAPI) Heritage Month, and coincidentally it's Bike Month. Having written a number of times about racism in general, attending two Black Lives Matter movement bike rides / protests, and also about Native Americans, I'd be remiss if I didn't touch on this community. As a white person, I certainly have no right to speak for them (and I'm not). But I can certainly show a few faces and amplify their voices one tiny bit. It's always worth being curious, seeking understanding, and being part of the wider world by doing more than just eating ethnic cuisine if and when the opportunity arises. Here are a few things I learned, and let's meet a few great cyclists as well.
First, it should be pointed out that most bikes in America are made in Asia. And literally billions of Asians from China to India and many other countries ride bikes. Because of course, they do. Like in Asia, Asian Americans, Native Hawaiians and Pacific Islanders ride bikes in the US. There are all manner of utilitarian riders but also recreational, racers and fitness cyclists. A general observation I read more than once is this stereotype or myth about the so-called "silent" or "model minority." They are often underrepresented, but that's changing in many areas, cycling included.
In terms of equity in cycling, the sport has a long way to go. You only have to look at the racist roots of the League of American Cyclists; they would not allow people of color to belong (back when it was the League of American Wheelmen). However sordid their history, the Equity Report has this promising statistic:
According to the Outdoor Foundation, "road biking, mountain biking and BMX" was the second most popular outdoor activity for both Asian/Pacific Islanders and Hispanics (14% of respondents choosing it as their top activity) and third most popular for African Americans (10%) in 2010 [4].

BikeLeague.org Equity Report, page 5
---
Let's meet some AAPI riders. First is Karen Wang, who organized a bike ride in response to the recent murders and hate crime in Georgia. This is from a story in Bike Works in Seattle, a town A Dude used to live in (and biked in some, too — when it wasn't raining). Although sad and infuriating why she had to organize the ride, it gave her a voice and a platform to unite biking, justice and community, which is healing, fun and important. Go give Karen Wang on Building AAPI Community Through Cycling a quick read; I'll wait.
Next up is Clarice Chastang Lorenzini, the sole Asian-American Pro Triathlete. She is sponsored by Bike Law, a network of lawyers who represent cyclists in crashes (they are no longer called "accidents.") Many of them cycle themselves. But the story here is about about an awesome athlete, period. That she happens to be an Asian American trailblazer and is speaking out for inclusion is icing on the cake. Did I mention she's a triathlete? That of course means she's also a runner and a swimmer on top of the cycling. Anyone who does all three disciplines gets a tip of the chapeau from moi. I thought about attempting triathlons once, but then I realized the word try was in there, so I opted out.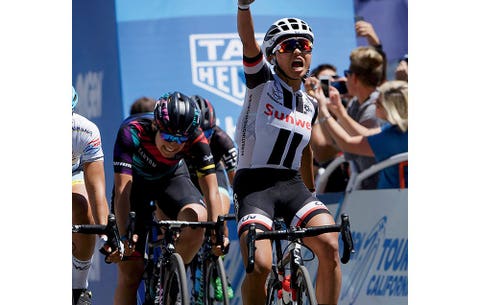 Then there's this badass, Coryn Rivera. A pro rider for pro Team SunWeb, she's the first American person to win the Tour of Flanders. Her awards include 72 national titles, more than any other current pro racer, male or female. She also placed highly on La Course, the shorter women's ride on the Tour de France. She's just getting started. Bicycling magazine has this audaciously titled article: Coryn Rivera Might Become America's Best Racer Ever. Although accessing pro women's riding isn't as easy as for men's racing.
Those three lovely ladies are just three women I found. Inspiring stories are behind all of them. Below is a royalty free stock photo of a Pacific Islander gentleman with a bicycle for some representation and balance. It's from Holland, where everyone is bicycle crazy, and they have the infrastructure to make it safe.
---
The dearth of stories I could find about Asian Americans and Pacific Islanders especially in bicycling was telling, however. Pacific Islander Americans make up 0.5% of the U.S. population including those with partial Pacific Islander ancestry, enumerating about 1.4 million people, according to Wikipedia. Native Hawaiians are part of the AAPI demographic but often are omitted.
While certainly scores of individuals of all races and ethnicities ride bikes, they are not all showing up in the pages of Bicycling magazine, on pro bike tour teams, or in Peloton commercials yet. That doesn't mean they aren't out there — your neighbors riding with their family in the park, your co-worker commuting to work, or in your community bike shop or social rides. Or perhaps even you, Dear Reader.
Since my blog has tens and tens of international readers, the focus on a heritage month for particular racial groups may seem odd. But in the US, there is the history of racism from enslaving Africans to pick cotton, to forced labor for Chinese building the railroads, invading Vietnam, nuclear bombing Japan and testing on Pacific Islands, the internment of Japanese, and more. There's a long sordid history of US aggression towards people from those parts of the world. So we still have a long way to go toward a truly inclusive culture that doesn't tolerate difference but celebrates it.
As the so-called bicycling community goes, it's a microcosm of society. So in that regard, there is always room for improvement in terms of inclusivity. Austin Yellow Bike Project makes biking accessible to people from all socioeconomic and racial groups. Another approach to pave the way for the next generation of young cyclists is providing Safe Routes to School for all children. For many AA, NH, PI (and Latinx, Native American and Black) kids who want to bike to school, access could be a problem. Having signs in multiple languages in communities where they are needed, for example, is something I never have to think about, but first generation immigrants of all kinds surely do.
As the fastest-growing racial group in the U.S., Asian Americans, Native Hawaiians, and Pacific Islanders have a key stake in the transformation of American streets. These communities are pioneering innovative, multilingual approaches to safe streets and healthier communities, with equity and intergenerational cooperation at the heart of the work.

Safe Routes Partnership
PATH Hawaii offers safety and skills-based bike and pedestrian programs for Hawaii Island's keiki (children), youth and adults. Thousands of Big Island's residents have completed their safety programs over the past 25 years.  Like I always say, "I believe that children are the future, show them love and let them lead the way." Oh, right, that's Whitney Houston. Ride In Peace, Whitney! And y'all too.
Source: Hawaii Dept. of Transportation SRTS, PATH Hawaii
---
Thank you for visiting me on WordPress or at https://ADudeAbikes.com. Feel free to add your Likes and Comments and to Follow the blog through WordPress if you have it, or by email. Contact me on the About page with any questions. Please feel free to Re-blog and Share as long as you give credit and the permalink to this post.
---
© 2021 A Dude Abikes. All rights reserved.